Set to open spring 2023, Fire by Forge is an upscale casual cafe, restaurant and bar situated in the same building formerly occupied by Hartford's lauded Firebox restaurant, which closed in 2020 due to factors related to the COVID-19 pandemic. The restaurant is owned by Forge City Works, a local nonprofit whose mission is to help people in the Hartford area by creating access to healthy food, employment and job training, and sustainable social enterprises. Led by industry leader and Hartford resident Chef Ben Dubow, who is also Executive Director of Forge City Works, and Justin Morales, former Managing Partner at Marlborough Tavern and Co-owner/Founder of Up N' Down Rock and Bourbon, the restaurant will become part of its culinary and service jobs training program and will also offer transitional employment, internships and apprenticeships. Using fresh, top-quality sustainable produce, meats, fish and cheese, the restaurant's Pan-American cuisine—a blend of flavors from North, Central, and South America and their island nations—reflects the diverse cultures that influence its neighborhood in Frog Hollow. The venue is also offering curated wine and beer. As for handcrafted cocktails, the menu will no doubt offer inspired tastes born from the award-winning cocktail talents of both Morales and Lead Bartender Suzie Johnson.
Cocktail: Passion Fruit Pisco Sour
Ingredients:
» 1.5 oz. Macchu Pisco
» 1 egg white
» 1 oz. lime juice
» 5 oz. simple syrup
» .75 oz. Fruitful Mixology Passion Fruit Liqueur
» 3 dashes aromatic bitters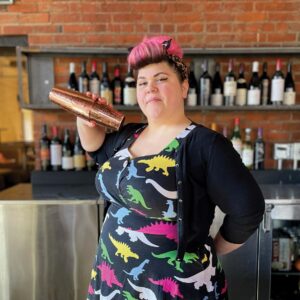 Method: Pour all ingredients except bitters into a shaker. Dry shake for 30 seconds. Pour the liquid over ice into a mixing glass. Stir to chill. Pour into your glass and add aromatic bitters to finish.
For this featured debut cocktail, Morales said they chose the Passion Fruit Pisco Sour "to capture the essence of our Pan-American concept. The Pisco Sour has traversed through the Americas for more than a century. It has perfect balance and is the perfect example of a true cocktail," he said. "The addition of the passion fruit was to accentuate the region, since this particular species of passion fruit is native to the Andes Mountains, mainly Peru. The food we serve pays homage to all regions of the Americas and each classic will have a touch of flair to showcase the passion we have at Fire by Forge for all things food, drink and the culture of Pan America."
Original Content from: The Beverage Journal